SHOP JEWELRY CARE ESSENTIALS
PROFESSIONAL CLEANING SERVICES
For a minimal fee, you can send your LAGOS jewelry for a professional cleaning.
Click here to learn more about the LAGOS cleaning and polishing service or email customercare@lagos.com
LEARN MORE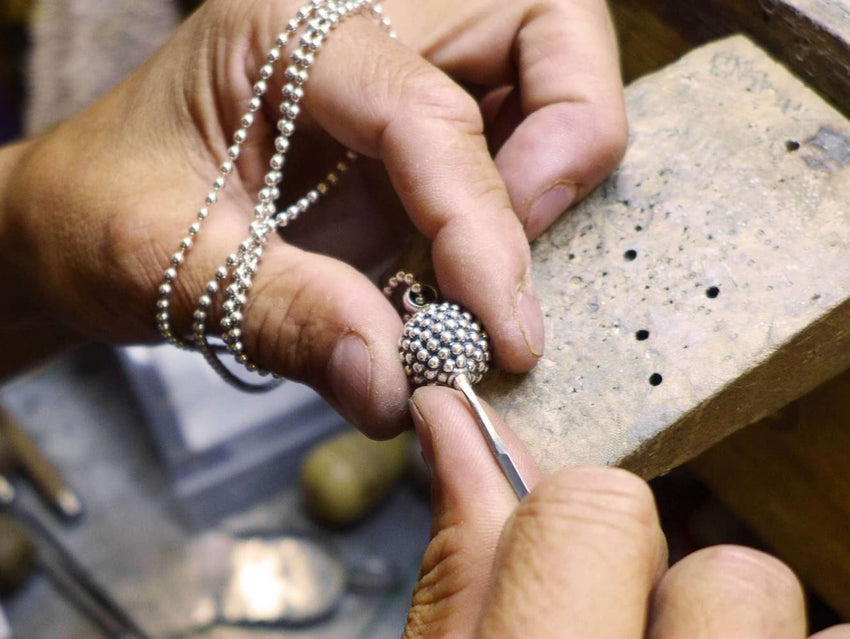 Clean Your Jewelry with the Proper Cleanser
Disinfectants such as bleach, alcohol and chlorine are not safe on sterling silver, gold, gemstones or pearls.
Do Not Use Hand Sanitizer to Clean Your Jewelry
Remove your LAGOS jewelry before applying hand sanitizer. Gemstones can become damaged by the alcohol in hand sanitizer, dulling their natural luster.
Remove Your Jewelry With the Proper Cleaner
The same goes for moisturizer. The oils can accumulate in the settings of your jewelry. So it's best to remove your jewelry.
LAGOS Cleaner is Safe for Daily Use
Our cleaning products are formulated specifically for LAGOS jewelry to gently remove germs, oil and dirt.
HOW TO DEEP CLEAN YOUR LAGOS
1. Place your jewelry in the dipping tray and immerse in the LAGOS Gentle Jewelry Cleaner for up to two minutes.
2. Use the specially designed jewelry touch-up brush to clean around settings.
3. Repeat if necessary.
4. Rinse carefully and blot dry.
5. Polish gold and/or silver with the inner white layer of the Professional Polishing Cloth to remove tarnish.
6. Use the outer cotton later of the Professional Polishing Cloth to polish your gemstones and ceramic to remove any fingerprints.
7. For Cleansing on-the-go use our Jewelry & Watch Cleansing Wipes or our TSA-sized Sparkle + Shine Cleaning Duo.
SHOP NOW